This PAX East started with a twist.  I flew out of Ontario, CA with a connecting flight into Phoenix before shipping out to Boston.  During my layover I noticed a pink-haired young lady wearing a cosplay shirt that seemed oddly familiar, though I couldn't quite place her.  Through some strategic eavesdropping I discerned that she was also headed to pax.  She ended up sitting right behind me on the plane, and it seemed like she almost, sort of, kind of recognized me. Neither of us were sure enough to approach one another, but thanks to some detective work by @4GDtachyon, we twittered it out and realized we met last year at PAX East 2013.
@ZyoriTV bright pink hair? @Missyeru was that you?

Ian Thompson (@4GDTachyon) April 11, 2014
The first day of PAX was about on point with all the others; everyone is excited and full of energy, pumped for the beginning of a great weekend.  This year marked my third PAX East in a row, but my first essentially on vacation; the past two years I was press, doing interviews and shooting footage on the convention floor. I met up with Boston afficienado and noble Scotsman Greg Laird and we hit the €œLast 5 years in esports€ panel with djWHEAT, SirScoots, and Slasher.  It was a fun panel that recapped the last 5 years in esports through the eyes of Live on Three. The flame throwers were out in full force, with plenty of shots fired at Slasher about his absence on reddit.
Friday night Greg and I were treated to the TwitchTV VIP party at the Underclub.  It was truly a top notch event.  It's amazing to see how much the Twitch parties have grown over the past three years; evolving from small gatherings to huge open bar parties to a closed door club packed with CEOs, VPs, and industry insiders filling the dance floor.  I was finally presented with an opportunity to meet djWHEAT in person and properly introduce myself, which was much overdue. Greg and I were also graced with the presence of Jess Brohard, who kept us company through the bulk of the party and joined us for late night Chinese after the club closed.
Remember when @ZyoriTV kept dropping phones in noodles Oh wait he doesn't remember that either Jess Brohard (@JessBrohard) April 12, 2014
We got off to a slow start on Saturday, but hit the convention floor in the afternoon.  After some twitter back and forth I finally got to meet up with Missyeru in the afternoon while she was waiting for S2's cosplay competition pre-judging to complete.  Once she had to go to work, Greg and I met up with @Derek_Derp and went for some PaPaGuYo– I fuck you not, the best Mexican food I've ever had. If you order the house guac a guy comes out with a little cart and makes it fresh at the table!! Saturday concluded with more party action, though this time at The Estate for the ASUS ROG after party. This one was open to the public, but the line to get in was literally wrapping around the building.  The Estate has a max occupancy of about 800 and some 4500 people RSVP'd to the event.  The Republic of Gamers threw a phenomenal party, offering an open bar to VIPs and an amazing set-list featuring The Crystal Method has the headliner. Shoutout to @ConvirtusDude for getting us on the short list!!
More lasers! pic.twitter.com/mwsblRSRaZ Greg Laird (@WhatIsHipTV) April 13, 2014
Sunday had an even slower start than the day previous. I wondered about the convention floor for a little bit and followed up with a few people I met the night prior, but pretty much just took it easy until the evening. I don't usually pay much attention to indie games, but came across one that seemed interesting called Dragon Fin Soup.  They just ran a kickstarter asking for $24,000 and ended up getting over $100,000!!

Greg with his WeLoveFine bag..
The real fun on Sunday came in the evening.  Sunday usually isn't a huge party night, as most of the convention attendees leave as the event ends at 6pm to get home in time for work on Monday.  Riot decided to take that opportunity to host an event for a smaller crowd, which happened to be at the same venue as the night before.  As it turns out, Riot also had the Crystal Method as a surprise guest, providing a handful of us the pleasure of seeing TCM two nights in a row.
The Riot guys really threw a good party. There were some fun giveaways, League themed drinks, and a very diverse mix of people. Much to my surprise, more than a few Rioters recognized me as a Dota 2 caster and seemed excited to see me at their event.  One them went so far as to tell me he still watches Dota 2 and often falls asleep to BTS coverage of Chinese Dota.  Mind == blown.
It really warmed my heart to hear comments like that from folks that are often referred to as €˜the enemy' in our corner of the internet (see: /r/dota2).  The Rioters that didn't know me already were very eager to talk about dota, the differences (and similarities) between our scenes, and esports as a whole.  I was bracing myself to get flamed every time Missyeru introduced me as a Dota 2 caster, but the flames never came!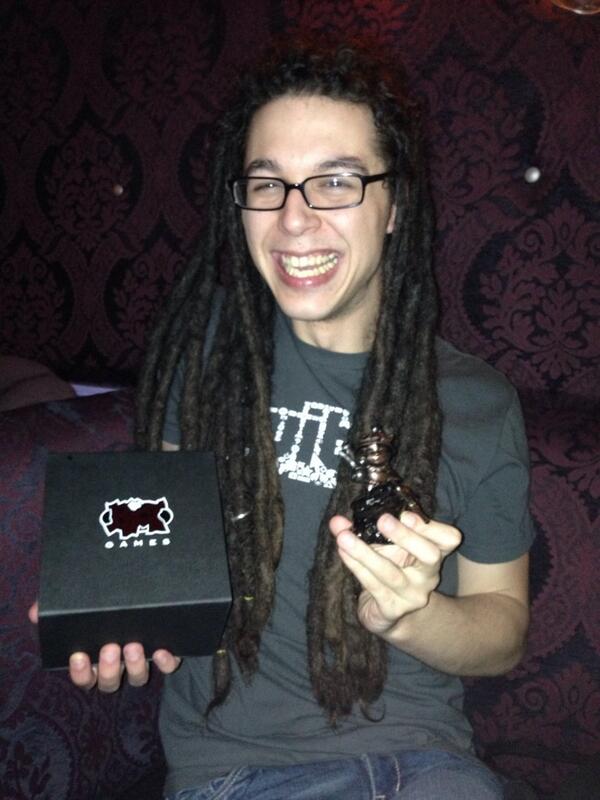 Zyori and a Teemo statue
Unbeknownst to me until we arrived at the party, many of the invitations were handed out during the cosplay fashion shows throughout the event.  I was shocked by the amount of people that recognized me from my short time producing The Cosplay Room last year. We only did 13 episodes, but it was great to catch up with my former co-hosts and meet their significant others.
Trololol RT @Turtsyy: @ZyoriTV It's over for you in Dota 2 I guess it's time for you to go to League where scum like you belong, traitor. Michelle D'Antonio (@Missyeru) April 14, 2014
The after after party ended up in the lobby of the Westin and turned out to be just about on the par with the Riot party itself.  We enjoyed the fine flavors of Cutty Sark with the amazing @MartinWongPhoto and @HatPerson in our room before joining Rioters downstairs.   Our evening concluded with delivery from Boston's finest Asian establishment, €œ$1 Chinese Rice€.
—
This was honestly one of the best events to which I've been able to attend.  It was great to meet so many Dota fans at an event where Valve doesn't have much of a presence.  Being able to meet  y'all in person, shake hands, and nerd-out about Dota is exactly why I love coming to these kinds of events.  It's what fuels my fire and keeps me motivated when hours are long and days are tense.
Had a fantastic time at #PAXEast this year hanging out with @ZyoriTV and everyone else. No parties tonight time to sleep.

Greg Laird (@WhatIsHipTV) April 14, 2014
If it fits, it ships.